OUR COMPANY MAINLY PRODUCES MACHINERY PART
Since2000, our company has 2D and 3D produce technology, and we also strived to investigate how to design some products. Now Tian Fu profession produces parts for brush cutter and garden tools. we have sold the brush cutter gearboxes to Thailand, Malaysia in 2000, but we still active promote products to new markets such as North America and Europe. In 2004, we start sold gearboxes to Italy, French, UK, Turkey, Russia etc.

自2000年以來,

我們的公司擁有2D和3D製作技術

,我們也努力研究如何設計一些產品。現在天富專業生產割草機和園林工具零件。我們在2000年將割灌機齒輪箱出售給泰國,馬來西亞,但我們仍然積極地將產品推廣到北美和歐洲等新市場。2004年,我們開始向意大利,法國,英國,土耳其,俄羅斯等地銷售變速箱。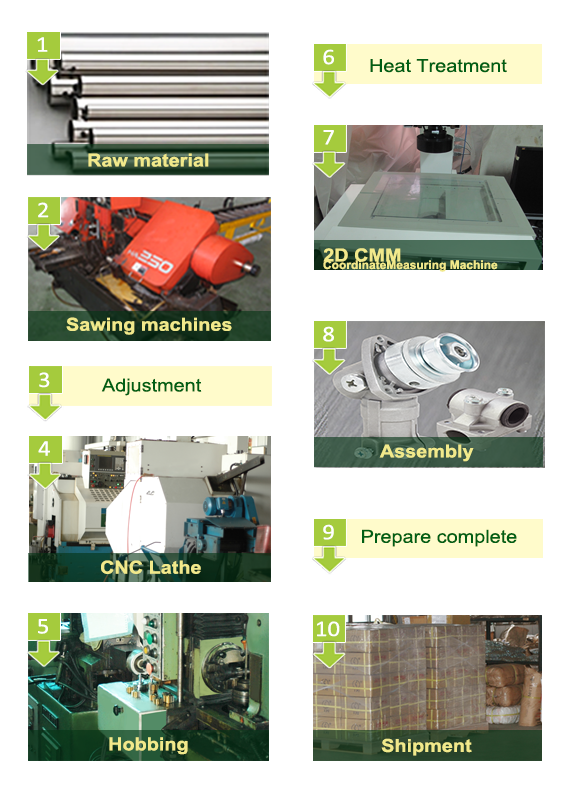 1.Raw material 原材料
Purchase of raw materials by the CHINA STEEL.
Government-run CHINA STEEL line with international standards.


中國鋼鐵採購原材料

。
政府辦的CHINA STEEL符合國際標準。

2.Sawing machines 鋸床
The material according to the desired length to do trimming.
該材料根據所需的長度進行修整。

3.Adjustment 調整設備

4.CNC Lathe 數控車床
A fixture to complete the ownership process, the conversion process can be reduced to avoid excessive human error, and simplify the folder rule.
完成一個夾具的所有流程,可以減少轉換過程,避免人為錯誤過大,並簡化程序


5.Hobbing 滾齒機工程
On wheels with hob to process the equivalent of one pair of interleaved helical wheel engages.
在帶滾刀的輪子上處理相當於一對交錯的螺旋輪嚙合。

6.Heat Treatment 熱處理

7.2D CMM

8.Assembly 組裝

9.prepare complate 完成準備出貨的資料

10.Shipment 運輸

Exported to Europe & Southeast Asia (annual output) 出口到歐洲和東南亞(年產量)
Hobbing Gear Machine
滾齒機
Bevel Gear Cutting Machine
傘齒輪切割機
CNC Lathe
數控車床
Auto Sawing Machine
自動鋸床
Sim Auto Table Lathe Sim
自動車床

Produce/生產
200,000 pc
Produce/生產
100,000 pc
Produce/生產
200,000 pc
Produce/生產
400,000 pc
Produce/生產
200,000 pc

Our advantages:
We test brush cutter gearboxes every single year, so our products are quality and stability. Not only make buyers confident to purchase our products over and over again but also make producers self-affirmation about our technology. Definitely product test let us recognize quality clearer and an attitude of responsible goodwill.

Our Lean operating initiatives allow us to hold extremely tight tolerances while consistently providing high quality components manufactured from forgings, castings and bar-stock. Materials currently processed include: components from carbon, alloy steel bar stock, forgings, cast ductile iron, gray iron, die cast aluminum, and permanent mold aluminum.

we take great pride in our intricate process of manufacturing. let our products are quality and stability. Not only make buyers confident to purchase our products repeatedly but also make producers. Be learn process and self-improvement, we understand manufacture is part of technology. We take tight accuracy while making a part for various industries, including automotive, motor bike, bicycle, mower, gear, and gearbox
In the gear manufacturing:
The aim of production activity is to generate added value. This also relates to gear manufacturing, and added value creation is made through production control for the purpose of achieving QCD (quality, cost, volume and deadline), general manufacturing gets the raw materials to cutting machines, work component with cnc computer lathes, or work it out on axis machine center, cutting gear teeth with hobbing machine, cutting of internal gear teeth with gear shapers, deburring, and blackening, etc. In gear manufacturing processes other than machining mentioned above are also used such as injection molding, sintering, rolling, and casting. including everything from the procurement of raw materials such as round bars for cylindrical gears and squared timber for racks to the packaging and shipping of the final products.
我們的優勢
我們每一年都會測試割草機齒輪箱,所以我們能確保產品質量和穩定性。不僅使購買者有信心一次又一次購買我們的產品,而且讓生產者對我們的技術產生肯定。產品測試讓我們清楚質量更和負責任的態度。

經過嚴格的控管使我們能保持非常精密的公差,同時提高零件、鑄件和棒材製造的高品質零部件。目前加工的材料包括:碳零件,合金鋼棒料,鍛件,鑄造球墨鑄鐵,灰鑄鐵,壓鑄鋁和永久鑄模鋁。

我們對我們繁瑣的製造過程感到非常自豪,這確保了我們產品質量的穩定。使消費者可以有信心的重複購買我們的產品。在製造和生產的過程,我們知道這是技術的一部份,所以會不段的去改善流程使產品更完善。 在製造汽車、摩托車、自行車、割草機、齒輪和變速箱等行業時,我們會嚴格的控管精度。

齒輪製造業:
生產活動的目的是創造附加價值。這也涉及齒輪製造,通過生產控制來實現附加值的創造,以達到QCD(品質、成本、體積和期限)的目的,一般製造以CNC電腦車床為切削機床、工件部件,或在AX上進行加工。機械加工中心、滾齒機、滾齒機、內插齒圈、插齒機、去毛邊、研磨等。在齒輪加工過程中,除上述加工外,還可採用注射成型、燒結、軋製、鑄造等工藝。包括從原材料採購,如圓柱齒輪的圓棒和機架的方形木材到最終產品的包裝和運輸。
We do have machine as
Spiral bevel gear cutting machine TSUNASHIMA SBG-10B

1. The reason why many bevel gears are now being used is the use of helical bevel gears where the speed is no noise.
2. The machine is a spiral bevel gear cutting machine under the gear modul 2.5 , then the use of two-way cutting edge cutting groove on both sides of the cutting at the same time there is a very high efficiency.
3. Because the operation is simple, even after the initial mechanical settings can be a skilled person can use a few machines.
4. It is much easier to remove the work piece and use the sleeve chuck.
5. The tool is retracted using hydraulic drive. (Operation with joystick in the past) Even if the female operator can operate several machines without fatigue.
6. Corresponding to save space will be small spiral bevel gears to do the most economical cutting, recommend the use of the machine is most suitable.

Manufacturer: Tsunashima
Made in: Japan

Specification:
Max length of the generatrix of dividing taper: 70 mm
Max tooth length: 25 mm
Max modul: 2.5
Max teeth-cutting diameter:
-Transmitting number (1:4): 140 mm
-Transmitting number (1:1): 100 mm
Max number of cuttable teeth:
-Transmitting number (1:4): 72 mm
-Transmitting number (1:1): 12 mm
Hole to install a work-piece: B& S №9
Electric motor for:
-Drive feeding: 400 W
-Drive tool: 750 W
-Hydrosystem: 750 W
Weight with accessories: 1300 kg
我們的機器有:
螺旋傘齒輪切割機 TSUNASHIMA SBG-10B

1.現在傘齒輪被使用的原因是因為。螺旋傘齒輪在運作時比較沒有噪音
2.該機器是齒輪模數2.5下的螺旋傘齒輪切割機,然後在切割的兩側使用雙向切割邊緣切割槽同時存在很高的效率。
3.因為操作很簡單,即使經過初始機械設置,熟練的人也可以使用幾台機器
4.移除工件並使用套筒夾頭要容易得多
5.使用液壓驅動器收回刀具。 (過去使用操縱桿進行操作)即使女性操作員可以在不疲勞的情況下操作多台機器。
6.對應節省空間將小螺旋錐齒輪做成最經濟的切割,推薦使用該機器最合適。

製造商:Tsunashima
日本製造

規範:
分割錐體母線的最大長度:70毫米
最大齒長: 25 mm
最大模數:2.5
最大切齒直徑:
發送數量(1:4):140 mm
發送數量(1:1):100 mm
可切割齒的最大數量:
-發送數量(1:4): 72 mm
-發送數量(1:1): 12 mm
安裝工件的孔:B&S№9
電動機用於:
驅動饋電: 400 W
駕駛工具: 750 W
水系統: 750 W
配件重量: 1300 kg