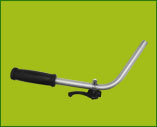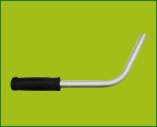 use : Handle's rod with gas fuel control
dimensions : long 360mm
weight : 194g



1.Hand to facilitate the operation of both hands, bicycle way easy to operate.
2.Plastic material, aluminum alloy material, not so afraid of broken is or brittle
3.Can be used with different aluminum tube size easy to use for both hand.
4.Let you swing in the operation of the arc while cutting grass more comfortable and safe.
5.Simple screw installation and easy to wiring connection.
6.Handle switch in line with the current operation button design
7.Handle switch has stop button for brush cutter operation
8.Packaging 100 pc, 50 pc, 20 pc
9.Delivery time 10 to 15 days

1.方便使雙手操作,也可在自行車上方便組裝。
2.塑料材質,鋁合金材質,不怕破碎或易碎
3.可以使用不同的鋁管尺寸,易於組裝。
4.讓您在操作手把中的擺動可更安全且舒適的割草。
5.螺絲安裝簡單,接線方便。
6.手柄開關符合當前操作按鈕設計
7.手柄開關可裝在割草機操作的停止按鈕
8.包裝100個,50個,20個
9.交貨時間10至15天

Product is made plastic material and aluminumso there will be no corrosion rust problem, the operation installs in the brush cutter pip or trimmer tube.it work perfect for shoulder type or back pack type brush cutter. Handle is good for both hand operation. Let you swing in the operation of the arc while cutting grass more comfortable and safe.

lkWith two hands grasped operation, one hand for catch the security and control and other just for power control. when you are in operation you can quickly complete the work in handsome movement.
It is very important to master the mowing in the mowing work. Simply install the 4 screws to lock and no any electronics system. Easily complete the operation of your mower handle. A good touch of a good mowing for the environment and bring a better green environment.

產品採用塑料和鋁材製造,不會產生腐蝕生鏽問題,操作安裝在割草機或鋁管中,適用於肩式或背式割草機。 手柄有利於手部操作。 讓您操作時可舒適的割草及安全的使用。
用雙手操作時,一隻手可安全的控制,另一隻手控制電源。 當您在操作時,可以快速完成割草。
割草工作時的組裝非常重要。 只需安裝4個螺釘即可鎖緊,無需任何電子系統。 輕鬆完成割草機手柄的組裝。 良好的修剪可帶來更好的綠色環境。

Step1. Open the package, there are two bicycle type hand and a middle handle holder
Step2 handle holder against the aluminum tube to adjust the appropriate distance, locked up
step3. insert the handle in to hold and adjust right position.
Step4. Try to see the correct operation before starting, if necessary, then loosen the screw to adjust the distance.

步驟1 打開包裝,有兩個自行車型手柄和一個手柄支架
步驟2 把手柄支架對著鋁管調整適當的距離,鎖上
步驟3 將手柄插入以固定並調整正確的位置。
步驟4 如有必要,嘗試在啟動前查檢查組裝,然後鬆開螺絲以調整距離。